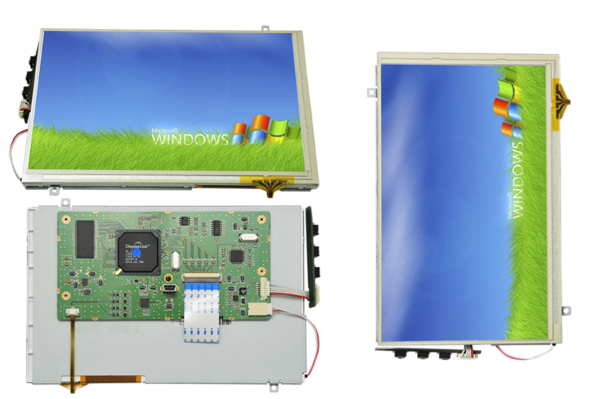 Open Frame 7" USB Resistive Touch Screen Monitor - UM-720-OF
As of August 2015, Mimo Monitors has retired this product.
Open-Frame 7-inch USB Touch Screen LCD Monitor
Many of our customers love the compact form, powerful features, and reliability associated with our line of 7-inch monitors. So, why not put everything our customers love about these products into a stunning display with an open-frame? The Mimo UM-720-OF is a cost-effective solution that is fully compatible with all sorts of applications. It has been carefully assembled with the DNA of the ever-popular UM-720S, but now provides the benefit of easy integration into existing equipment or enclosures.
The Mimo UM-720-OF comes complete with many of the same user-friendly design features as other popular 7-inch monitors in our catalogue, including resistive touchscreen functionality right out of the box as well as an ultra-light and minimalistic form factor that doesn't sacrifice quality along the way. The touchscreen in particular can display in either landscape or portrait orientations, and it provides a stunning, crisp, and vivid resolution that makes it ideal for everything from video conferencing to entertainment purposes.
The UM-720-OF open-frame resistive touchscreen monitor is designed to provide the most cost-effective and high-performance solutions for consumer, retail POS, and hospitality markets. Nearly any application is the ideal environment for this stunning display thanks to its high-resolution display, wide viewing angle, streamlined profile, and sturdy, reliable construction. It is an entirely non-intrusive display that can quickly be swapped out with existing open-frame monitors, making upgrades a breeze!
Whether you're running a company with a staff of 800 or a small manufacturer with 12 employees, the open-frame Mimo UM-720-OF is the perfect workspace companion due to its easy-to-integrate nature and consistently high performance. It is more than ready for whatever tasks you need to throw at it and rest assured, it will keep up and then some.
Features:
DisplayLink technology for video, touch, and power over just one USB connection.
Ultra-light, weighing in at less than 1 pound.
Built-in stylus doubling as a monitor stand
High-resolution resistive touch display
Low power consumption, maximum performance
As with all our monitors, the Mimo UM-720-OF is compatible with Windows 7 & 8, Linux, and Mac OS. A $35 driver is required to enable Mac OS touchscreen capability.
USB Extender
Do you want to maximize the usability of your Mimo USB display, but need it to be located further away from your computer setup? Perhaps consider our USB extender. This magical little device can enhance the operational efficiency of your workstation while removing wire clutter. How does it work? Well, it uses Power over Twisted Pair to power the remote side from the source side. What does that mean? No longer do you need to fumble with AC power cables! (http://www.mimomonitors.com/products/mimo-usb-extender-102).
Other 7" display options:
Same great innovative folding form factor but with resistive touchscreen capability– UM-720S
7" resistive touchscreen with a VESA compatible mount – UM-720F
7" resistive touch display but with a detachable stand / base – Touch 2
Raspberry Pi Support
Please visit this page for the 7" Monitors: http://www.mimomonitors.com/pages/using-mimo-with-raspberry-pi 
California Residents:
WARNING
: This product can expose you to chemicals including Styrene and DINP, which are known to the State of California to cause cancer. For more information go to
www.P65Warnings.ca.gov
.